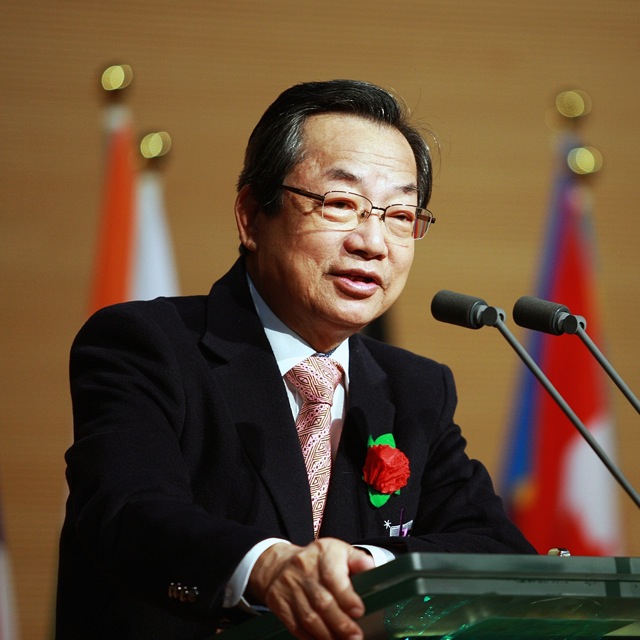 Outline
God
is love.
Because He loved the world, He gave
His only begotten Son.
The Son came with God's blood.
The blood can atone for sin because it has life (Lev 17:11).
The wages of sin is death, explicitly the spirit's death (Ro 6:23).
Sin is when one leaves God
and thus, his spirit dies (Ge 2:16-17).
A dead person cannot raise the dead.
The blood of Jesus Christ is the blood of the living God.
Jesus Christ lives eternally.
God is the only Spirit who possesses blood.
God paid the wages of our sin with the blood of Jesus
and made our spirit alive by the Holy Spirit.
Those who are made alive by the Holy Spirit are born again;
they have received eternal life.
According to the Law, the blood of animals was used
as redemptive sacrifice.
Yet, it was only shadow of Jesus Christ,
an expression of their faith.
Jesus Christ suffered on the cross
and perfected faith.
He is the Lamb of God.
○Christianity centers on
faith in the blood of the Lamb of God.
This is the perfect faith.
○Jesus suffered to shed His blood.
He suffered to redeem mankind.
Our faith testifies of this work.
○The Holy Spirit
is the Spirit of truth that testifies of Jesus.
He abides in our spirit and has sealed us.
※ "Do you have faith?" means
"Do you have the blood of Jesus?"
Whoever does not have His blood is still in sin.
Summary

Receive God's Love

God is love. People use the word love between a man and a woman, or to say that they like a particular object. Among all the various types of love, parents' love for their children is a model of the love that God has towards us. The love of parents is unconditional. Many women have grand dreams when they are studying in university but once they get married and have children, they set their hope in their children and make sacrifices for them. A mother's love never changes even if her children cannot comprehend and break her heart. Some say that they came to finally understand their mother's unchanging love after getting married and having children of their own. Just as parents love their children unilaterally, God's love for us is exactly the same.

Christians have not only received God's love already, they will receive it for eternity. Some people grumble out of their selfish desires, 'if God loves me, why doesn't He take care of me?' Although God will patiently wait to the end even for such people, they are not doing any good for their spirit. Our spirit receiving much love from God is like grains being ripened. On the contrary, not receiving God's love and falling into temptation is as if the grains are unable to ripen and become chaff. Even if our own desires are not fully satisfied, we need to acknowledge and receive in God's love.

A person who receives God's love, loves others by the love he has received. Some people say, "Our church has no love," and express their dissatisfaction. However, there is something to think about first before saying so. Who is the church? Is that person not a member of the church? The Lord said, 'love one another as I have loved you' (John 15:12). Whoever has experienced the love of God loves others. If someone is unable to love, it is indicating that the person has not received God's love. It is certainly not easy to love others. How difficult and exhausting is it for a mother to raise her child? Yet the mother does not give up and still loves her child. God has bestowed such love upon us. Thus, we ought to love our neighbors in the same way.

The way that God demonstrated His love towards man was to take pity on him and send His only begotten Son. As He sent His only begotten Son, what God demanded from man was to receive His love by faith. We should not be like the mystics who try to satisfy their own desires through God; we must receive His love.

You Are No Longer a Sinner

What was the work done by Jesus Christ whom God had sent? For a long time, the Israelites made atonement for their sins by slaughtering and shedding the blood of sheep according God's revelation. Yet, it had to be repeated every year as its effectiveness lasted only for one year. This was a type of how Jesus Christ, the Lamb of God would shed His blood. Since the blood of animals cannot atone for man's sin, God sent the sinless One to the world to die on the cross.

Christians call God as their Father. From where did such faith come? Jesus died on the cross and made atonement for man's sin, that is, He paid the debt for them. The price of sin is death. Man's spirit had to face eternal punishment in Hell because of his sin. In such circumstances, Jesus shed His blood and died, and thus paid the price of man's sin.

Leviticus 17:11 says, "For the life of the flesh is in the blood, and I have given it to you upon the altar to make atonement for your souls; for it is the blood that makes atonement for the soul." Just as we pay money in exchange for the products in a shop even though they are different in form, the spirit of man was without life but God gave His blood and purchased man's dead spirit. When Jesus who is the Word that became flesh died on the cross, He received the eternal punishment. Yet, He is not a sinner. The sinless One was punished like a sinner so that by His blood, man's spirit that died by sin can live again.

Man's status was a sinner until Jesus Christ died on the cross. In terms of conscience, a sinner is a person who is morally wrong. However, a sinner in the sight of God is one who does not know God, that is, one who does not have God in their spirit (John 14:20). Sinners must later receive eternal punishment in Hell. Although we were sinners in the past, we came to posses the name of Jesus by believing in Him. That name has given us the right to become God's children and call Him as our Father (John 1:12). Anyone who believes in Jesus is no longer a sinner but a child of God. God has never called a sinner as His child. He atoned for man's sin, justified those who received His love, and He made righteous, those whom He called as His own children.

Whoever calls God as Father is not a sinner. For some, every time they kneel down to pray they are hit with a sense of guilt that they did not keep God's command and say, "I am a sinner." But if anyone has been baptized and united with Jesus, he is no longer a sinner. Wherever we look in the New Testament, we cannot find a saint who has been baptized confessing, "I am a sinner." It is understandable if by that confession one was trying to say, "I am an undutiful child" and expressing his heart of regret before the Father. However, it would be a serious problem if one were saying that because he has not accepted God's grace.

Hebrews 10:26-27 says, "For if we sin willfully after we have received the knowledge of the truth, there no longer remains a sacrifice for sins, but a certain fearful expectation of judgment, and fiery indignation which will devour the adversaries". To sin willfully means to go back to the status of a sinner as one who did not believe in Jesus Christ. There is no chance of being forgiven if anyone disregards the love God has given and once again becomes His enemy. That is the reason why we need to quickly turn so that we do not completely lose our first love.

It is written in Romans 7:22-25, "For I delight in the law of God according to the inward man. But I see another law in my members, warring against the law of my mind, and bringing me into captivity to the law of sin which is in my members. O wretched man that I am! Who will deliver me from this body of death? I thank God—through Jesus Christ our Lord! So then, with the mind I myself serve the law of God, but with the flesh the law of sin." The struggle between our spirit and flesh will never end until the day we depart this world. Yet, the reason we do not despair is because we have the grace of God.

Just because our plans do not go our way, it is not right to think, 'Did God abandon me because of my sins?' That would be no different to sinning willfully. If a person cannot believe that God is with him, it is probably because he has determined himself to perish. Second Corinthians 4:3-4 says, "But even if our gospel is veiled, it is veiled to those who are perishing, whose minds the god of this age has blinded, who do not believe, lest the light of the gospel of the glory of Christ, who is the image of God, should shine on them." God is spirit. The Spirit manifested in the form of the flesh and shed His blood. No other spirit is like this; only God can do this. The Son of God came to the world and shed His blood, that is, God's blood. By that blood, we have discarded our sinner's status and become God's children.

The people who still had a longing for Egypt after having crossed the Red Sea were all destroyed in the desert. One must not sin willfully if he has become a child of God by the merits of the precious blood of Jesus. It is not right for someone who calls God as Father, to take up the status of a sinner again. For Job, he offered up sacrifices to God for his children whenever they had fests as he thought his children might have sinned in their hearts. Yet Job was faced with the tragedy of losing all of his children in one day. How could such a thing happen to him when he had served God so well? It was because they did not have the Lord's precious blood. Though Job was a righteous man according to man's standards, nothing could be guaranteed without the Lord's blood. We should not be those who sin willfully after having received the precious blood of the Lord but acknowledge the fact that God is our Father.

No Longer a Patient

Jesus did not only make atonement for our sin but He also carried our infirmities. First Peter 2:24 says, "By whose stripes you were healed." The whip used by the Roman soldiers for scourging at that time was made from leather with glass fragments glued over it. One lashing could fatally injure a person. Jesus did not deserve to be scourged in that way, but He suffered for us and carried our infirmities so that we are healed. Therefore, what we now need to do is use our will to overcome our weaknesses. Like the paralytic who obeyed the Lord's word and took up his mat and walked, we must cast off the notion that we are sick patients and boldly take action. When the Lord says, 'your sins are forgiven; get up, take up your mat and go home', we should not be stubborn and insist that we are patients saying, 'but I'm a paralytic?' If we believe that the Lord has carried our infirmities by being scourged, we should get up and carry our mats regardless of how severe the pain we presently have might be.

Once when I was leading a crusade, a person whose whole body was paralyzed came to the meeting. His hands and feet were shriveled and paralyzed so that he could not move them by himself. I said to him, "You are already healed because Jesus was scourged. Now it is up to you to get up and walk." Although he was unable to get up even when the meeting was over, he still maintained his belief that Jesus had carried his pain. The next time I met him was after I received an invitation to his wedding. The moment when the entrance of the groom was announced and the groom entered, I suddenly burst into tears. He was a cripple who could not walk, and yet there was he, walking in by himself.

The god of this age has blinded the minds of the people so that they do not realize the significance of how Jesus, the image of God who came in the flesh, was scourged and died on the cross. As a result, people are still under suffering despite claiming that they believe in Jesus. After hearing the sermon, many people confess, "I'm not a patient!" However, when the pastor says, "If you are a patient, please come forward and I will pray for you," they immediately treat themselves as sick patients again just to have the pastor lay his hands on them. One who believes in Jesus is no longer a sinner and likewise, no longer a sick patient. Thus, one must now get up and walk.

Proclaim the Sound of Jesus' Blood

During His last supper with the disciples before He was crucified, Jesus said, "Drink my blood!" This was the Lord's final message to the disciples, the sound of His blood flowing out of His body hung on the cross. We are the ones who believe in that sound of the Lord's blood.

First Corinthians 11:25 says, "In the same manner He also took the cup after supper, saying, "This cup is the new covenant in My blood. This do, as often as you drink it, in remembrance of Me." Christians take part in the Holy Communion according to His command. Some claim that the wine turns into Jesus' blood when they pray during the Lord's Supper. However, that is not true. The Lord commanded His disciples to remember the fact that He shed His blood for us whenever they drink the wine, and that His final message to them was to drink His blood.

We are those who obeyed such message of His and drank the Lord's blood. We were saved not through some religious ritual or ceremony, but by the precious blood that came down from Heaven. As those who drank that blood, we are no longer sinners or sick patients. Since we have become children of God, we must now serve God the Father. We need to overcome our weaknesses using our own will power for we are not patients any more.

First Corinthians 11:26 says, "For as often as you eat this bread and drink this cup, you proclaim the Lord's death till He comes." If a person remembers that Jesus has shed His blood, he must proclaim the Lord's death until He returns. In other words, he needs to proclaim the sound of Jesus' blood with his own lips. The person who has received the final message of the Lord needs to obey the Lord's command. When the Lord commanded, 'Drink my blood!' it was not only for the disciples who were with Him at the time but for all mankind. Man can only be saved if he drinks the Lord's blood. For this reason, those who drank His blood must proclaim the message of the blood.

First Corinthians 11:27-29 say, "Therefore whoever eats this bread or drinks this cup of the Lord in an unworthy manner will be guilty of the body and blood of the Lord. But let a man examine himself, and so let him eat of the bread and drink of the cup. For he who eats and drinks in an unworthy manner eats and drinks judgment to himself, not discerning the Lord's body." If anyone does not proclaim the sound of the blood after partaking in the Lord's Supper, he is sinning against the Lord's body and eating and drinking judgment to himself. To sin against the Lord's body means to commit the same sin as that of Judas Iscariot, the high priests or Pilate. And to eat and drink judgment to himself means that he would ultimately perish by sinning willfully. So how grave is the sin of not evangelizing and witnessing? God will surely charge anyone that does not evangelize to account for his sin.

Some people complain, "People won't listen to me even if I try to evangelize." There is a saying, 'Little strokes fell great oaks.' Whoever is determined to evangelize someone must remember the verse, "I say to you, though he will not rise and give to him because he is his friend, yet because of his persistence he will rise and give him as many as he needs" (Luke 11:8). The Lord will be at work with anyone who longs to deliver the souls with all of his heart, soul and life, like David who went after the lion that carried off his sheep, struck it and delivered the sheep from its mouth. We have received and drunk of the blood of Jesus. Therefore, we must say, "Believe in the blood of Jesus. His blood contains God's life and that life will save you", and proclaim the sound of the Lord's blood until He returns.
Semuon's Letter
In no time at all, a half a century has zoomed by
and I recall the times of endless hoping and longing for the Kingdom of God.
My beloved Seoul Sungrak Church and its ever-growing members….I will not be able to see their faces in the near future; however, I had complained about them throughout those short years.

The world indeed is a sorrowful place. It is like a forest obstructed by people. Instead of reaping according to how much was sown, it is a place of more loss than gain. Nonetheless, there is an exclusive place called the Kingdom of God, where I have completely sown my body. Now the One to reap what I had sown is our Lord Jesus in Heaven. Yet, when I look back to how I have lived my life in this sorrowful world, only tears flood my eyes. Since I have aged, strength is no more and even my place of authority is slowly vanishing; however, I breathe and sing in the Holy Spirit. When I look back to the long journey behind me, I only find flaws. But since I find my yearning hope in faith, I am full of joy.

It is difficult since my body does not follow my heart, which alone glides like the suspended clouds. Though I seek the most beautiful place in this world, our Lord Jesus is not there. Even if I find a breathtaking flower field, it cannot even satisfy me for more than ten days. I have lived long in this sorrowful world.

Some might wish for the day when I would be no more in this world. It is because he is indebted to me. Anyone can mislead a pastor, but no one can deceive the Lord. I have been misled so many times in the world. Too many times, I have been struck. Basically, I have tasted the real world. The things of the world have no definite shapes like the floating clouds in the sky, scattering and ultimately disappearing. So what would be the use of regretting the world's affairs, which are like floating clouds? The love that I have shared with people in my life was for past, ephemeral moments. I have eventually forgotten the names of the people in the past.

For the sake of this worn-out body, I am still searching for sustenance today. What have I accomplished in this futile, worthless world? Only the Lord would know. There are countless people who have abandoned the body of the Lord, who is the true Vine. They have all dried up, unable to receive vitality again. I just started to scribble with my pen and now ended up with words that don't seem sensible….

Even so, what I have discovered on earth is that highest Kingdom of God. Since I do not have any merits or righteousness, I trust the righteousness that only God has given me. Though I could not be saved through my righteousness, I have received salvation through God's righteousness. What I desire to pour out through Wolsan Literature is my mindset, not faith. I have lived my life with such mindset. With it, I have kept my faith, the gift that God had given me. Though I do not possess righteousness, His righteousness leads me to be glorified. Since I have endured this sorrowful world until now, perhaps it's time for my spirit to be filled with glory.

Pastor Ki-Dong Kim
Lord's Day Worship Column

Credits

Outline translated by Sam Park
Summary translated by Sarah Nam
Letter translated by Jada Shim
Revisions and Interpretations by Sam Park

Chief Editor: Helen Nam
Korean Summary by Ki-Taek Lee
https://www.sungrakberea.org/wp-content/uploads/2014/08/131016_wbc_lyt-0648-Version-3.jpg
640
640
Helen Nam
http://www.sungrakberea.org/wp-content/uploads/2020/10/Sungrak-Church-Website-Logo-5.jpg
Helen Nam
2014-09-08 07:51:03
2020-04-16 11:02:01
2014.09.07_Only the Blood Cleanses from Sin